What is a medical illustration? Medical Illustrations are drawings of medical subjects (biological and anatomical related subjects) in order to support the learning process and the dissemination of medical knowledge.
What is the history of medical illustrations?
Medical Illustrations have been used for a long time, since people started to show interest for the human body and the things around it. Even though medical illustrations can be found since the Antiquity, medical illustrations have been more documented since the 16th century. In 1542, Andreas Vesalius published De Humani Corporis Fabrica Libri Septum. This is a perfect depiction on how medieval medicine saw classical medicine. This book contains more than 600 woodcut illustrations. They were all based on the observation on the human body and more over on the human dissections. Until then most of the internal parts were depicted more from intuition but there were few accurate depictions.
Later, Max Brödel was the one who made medical illustration an academic department. In 1890's he was asked to make medical illustrations for Harvey Cushing, William Halsted, Howard Kelly and other researcher from The John Hopkins School of Medicine in Baltimore. He was a talented artist from Leipzig that succeeded to create a new illustration technique- carbon dust and new printing technologies. In 1911 he created the first academic department of medical illustrations that exists even today.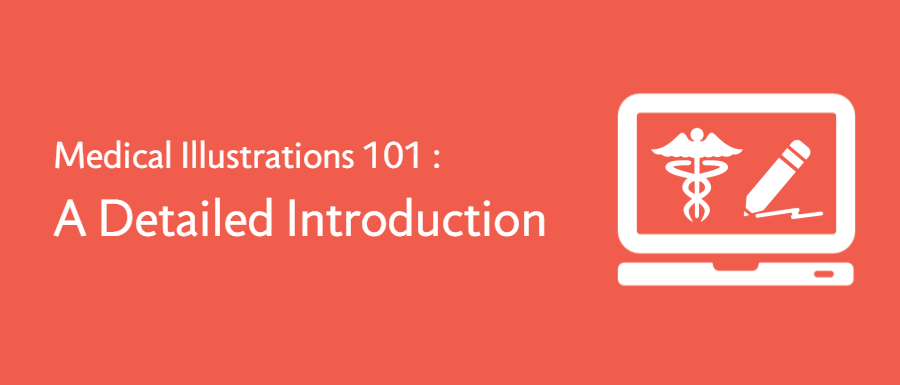 What is a medical illustrator?
Medical illustrators can have multiple tasks. They can work as consultants and administrators in biocommunication. A medical illustrator is a person that has to learn and improve himself throughout his entire career. He has to stay up to date with the latest discoveries in the medical field but also in the design field. He has to know and master all new techniques from medicine and art.
In 1945, in Illinois, was founded The Association of Medical Illustrators (AMI). All members are primarily artists that are asked to create materials that are going to be used after in schools and other environments in order to record and disseminate medical knowledge. Artists are used as consultants and advisers for the use of this kind of visual materials. One of AMI's purposes is to research and develop the study of medical illustration and all other fields that are directly connected with the medical field. This way it is encouraged the cooperation between different fields in order to achieve a greater performance.
This association has an annual Medical Illustration Source Book that is highly appreciated by creative and marketing professionals that are looking to hire medical/scientific illustrators for all sorts of projects – educational, publishing or advertising. A medical illustrator needs to have some special skills – first of all they must have the ability to represent the subject accurate, to have a 3D ability of visualization, some originality in style and fine color discrimination.
Training
If somebody wants to become a medical illustrator, first of all he/she must have a master's degree from a program in medical illustration that is accredited. The AMI is one of the sponsors and members of CAAHEP (Commission on Accreditation of Allied Health Education Programs). This organization is responsible with granting accreditations to the graduate programs in medical illustration. They work under the recommendation of ARC-MI (Accreditation Review Committee for the Medical Illustrator). In North America there are five programs for medical illustrators.
John Hopkins Medical Institutions
One of them is The Department of Art as Applied to Medicineof John Hopkins Medical Institutions that was the first of its kind. In 1959 the University approved a program of two years that grants a Master's degree of Arts in Medical and Biological Illustration.
The University of Illinois
Another program that trains medical illustrators is The Biomedical Visualization Program from the University of Illinois. It was founded in 1921 by Thomas Smith Jones and is the second oldest school of medical illustration. It has a very hi-tech based curriculum – they have the Virtual Reality Medical Laboratory. This program can also be used in the development of anaplastology (facial and somatic prosthetics) or medical sculpture.
The Medical College in Georgia
The third option when searching a place for medical illustrators is The Medical Illustration Graduate Program of the Medical College of Georgia. Students can obtain a Master's degree of Science in Medical Illustration. This program is focused on anatomical and surgical illustration for publications – online and offline. It also emphasizes students drawing skills. They learn different drawing techniques since their first year. Besides this, students are trained in using advanced computer technology and digital drawing for vector representations.
The University of Toronto
The University of Toronto has also a specialized program – The Biomedical Communications Program. It was founded in 1945 by Maria Wishart, one of Brödel's students. Some of the graduates from this program were involved in designing the Grant's Atlas of Anatomy an encyclopedia for medical student.
The University Of Texas Southwestern Medical Center
In Dallas there's The Biomedical Communication Graduate Program offered by the University Of Texas Southwestern Medical Center. Another former student of Brödel's is the founder of this medical facility, Lewis Boyd.
Illustration Techniques
Illustrations can be created using both traditional and digital techniques. They can occur in medical textbooks, advertisements, professional journals, videotapes and movies with training material, animations, television, general magazines and many others. The future of medical illustrations is proved by the new techniques that create 3D models and patterns.
Medical illustrators are used for example in the making of a patient's simulator or prosthetics. Due to the technological development, traditional illustration practices are slowly being replaced by modern micro cameras and 3D printing. Cadavers are mostly used by medical students and less by the illustrators. They have the option of using endoscopic cameras that can zoom in or zoom out a certain anatomical part.
We are walking in a new age of medical illustration and with the new technologies of creating virtual realities some may be able to practice surgeries in a real-like environment. Illustrators have new possibilities and new ways of improving, developing and sharing their work. Even though not many people know about them, we must have in mind that all medical illustrations are done by hard working students that put their drawing skills in the service of knowledge.
——————————————————